Abduction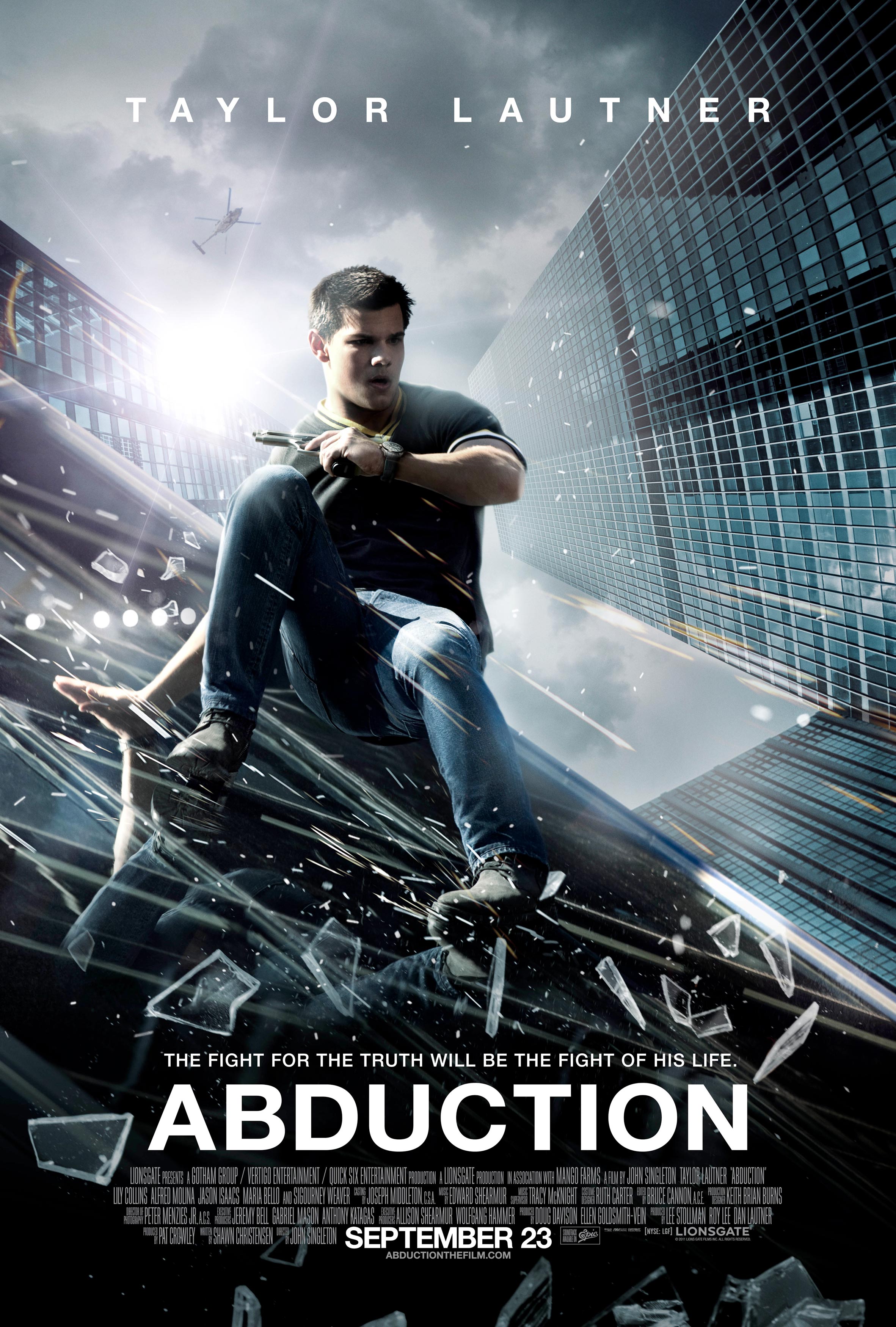 Bottom Line: May I suggest a more fitting title? Adoption.
Directed by: John Singleton
Starring: Alfred Molina, Lily Collins, Sigourney Weaver, Taylor Lautner
Prosaic (and far past conventional) action movie about high-schooler Nathan (Taylor Lautner). Nathan isn't your average teenager, but rather the Hollywood stereotype of a popular teen (i.e. riding a motorcycle to school every day, undergoing little consequence for attending a drunken party), which is considerably worse for placement in a film at this point. His life changes (as if we've never heard that before) when he is assigned a project about sociology with his neighbor Karen (Lily Collins). They choose to delve into the "missing child" topic. While on a website for research, the two find a striking similarity between one of the children reported missing and Nathan himself. An illegal unit discovers that Nathan has opened a doorway that could lead him to discovering his true identity: a boy who has lived in absence of his real parents his whole life and never known. While the CIA tries to stop them, this unit makes an attempt to hunt down Nathan before he can uncover the truth about his life.
ABDUCTION isn't a total bomb, but there are two key areas that proved enough as misfires to bring it pretty close. The first of these was the characters. Putting aside the fact that even by the end of the film, we still can't differentiate the trustworthy characters from the cunning criminals, I'll state the main headache plain as day: we don't really care about Taylor Lautner's character (self-proclaimed "Team Jacob", I won't try to argue with you). Had we a more likable character with the same situation, rather than one who started the movie off by passing out on a friend's lawn, the story would have been more interesting. His character got uneven as the film went on: what kind of "cool kid" cries five times in the course of less than two hours? We would think that someone who was taught to be a great fighter by his father (the one who raised him) would have enough emotional strength to hold back tears, but it often doesn't happen. And that's probably the only point at which the story (misfire number two) isn't predictable. Believe it or not, I watched this because I wanted to see how awful it actually was. I had not heard one good thing about it at all. Once I heard from someone that every action was predictable, I tried to rent this as soon as possible to detect how much of an exaggeration that was. I was shocked by the infinitesimal amount of stretching imposed upon the truth of that statement. I wouldn't say I predicted 100% of the film, but it's somewhere around 80%. Which is a bummer, because I'm terrible at predicting even the most broad points of movies. The premise was so open and familiar that the twist on which the film ended became obvious to me a good amount of time before it actually occurred. That said, followers of "Team Jacob" (*cough, cough* the main part of what's wrong with the world today) will love this film, but that's because they'll be looking over everything except Taylor. I'm talking about the shirtless werewolf, not the horrible performer that was nominated for Worst Actor at the most recent Razzies (for both this and BREAKING DAWN – PART 1). I'll admit to turning off my mind for a few minutes to try and enjoy the action sequences, but after a few minutes or so, I got bored.