Fargo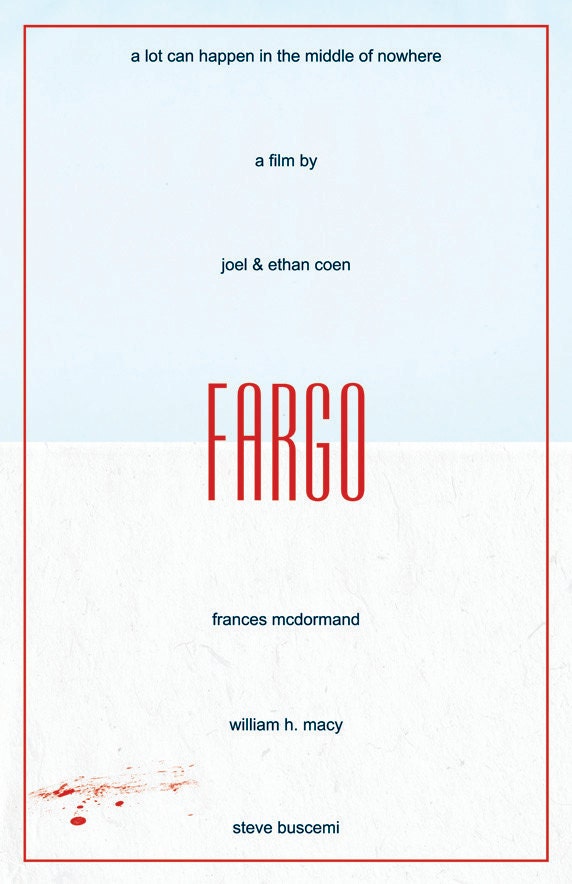 Bottom Line: A complex, absurd thriller punctuated by side-splitting comedy.
Directed by: Joel Coen
Starring: Frances McDormand, Harve Presnell, John Carroll Lynch, Kristin Rudrud, Larry Brandenburg, Peter Stormare, Steve Buscemi, Steven Reevis, Tony Denman, William H. Macy
Absurd black comedy about a car dealer (William H. Macy) who hires two criminals to kidnap his wife in order to earn ransom from his father-in-law. The two barely know the car dealer, who hires them using a false name, but once they have his wife kidnapped, they take off on what seems to be a carefree road trip. All of this changes when two men that they viciously murdered are discovered dead in the icy city of Brainerd, and Officer Marge Gunderson (Frances McDormand), a cop seven months pregnant but extremely observant nonetheless, is to be on the hunt for everyone involved with the crime.
Never before had it thumped against my mind that a comedy could be so seamlessly threaded through a thriller. In fact, I have somewhat dismissed the idea of a hybrid comedy-thriller. Now I'm convinced there is such a blended genre; it's just either uncommon or I have not seen many films that represent the melding so singularly. Brothers Joel and Ethan Coen wrote the story as a thriller. It's a complex, dark, violent twist on a murder tale (and, later, a bit of an embezzlement tale). Add humor in when the story is transliterated and expanded into an entire screenplay, and we have a gruesomely funny black comedy.
If it's not clear already, I truly enjoy black comedies, as well as the humor is well-done and not particularly offensive. The Coens' comic writing is masterful here. Oddball characters? Check. Offbeat plot? Check. Tasteful violence? Bold check. Exhilarating experience? Another bold check. Actually, make that last check bold enough to bleed through in black ink. The story, as well, is not the slightest bit offensive. There is a title card in the beginning that proclaims the film a true story***, but in respect for those who died during the situation, the names were changed during the scripting process. This promise is kept. Yes, almost everyone who dies gets killed off in an utterly madcap manner. But these people die in such bizarre, ridiculous ways, I cannot imagine anyone who appreciates black comedies being anything but amused.
FARGO was a very entertaining film. All I'd heard about it was that it was a classic, which I found implausible after learning about how loopy the presentation was. Let's just hearing a description of a film and what it's like, is nothing like seeing it for yourself. The film bleeds class from a heart that beats at an abnormal pace.
***Director/co-writer Joel Coen and producer/co-writer Ethan Coen admitted years later that it was completely contrived.