Archive for the 'Epic' Category
Movie Review #713
Miramax Films presents…
Copyright Owners: Tiger Moth Productions
Distributor: Miramax Films
Country: USA – UK
Spoken Langues: English – German – Italian – Arabic
Directed by Anthony Minghella. Produced by Saul Zaentz. Novel by Michael Ondaatje.  Screenplay by Anthony Minghella.

Rated R by the MPAA – sexual material; infrequent violence; infrequent profanity. Runs 2 hours, 42 minutes. First shown in Italy in October 1996. Premiered in Los Angeles, California on November 6, 1996; and in New York City, New York on November 12, 1996. Limited release in the USA on November 15, 1996. Wide release in the USA on December 6, 1996; and in the UK on March 14, 1997.
Starring Ralph Fiennes, Juliette Binoche, Willem Dafoe, and Kristin Scott Thomas. Also starring Naveen Andrews, Colin Firth, Jürgen Prochnow, Kevin Whately, Torri Higginson, Raymond Coulthard, Philip Whitchurch, and Lee Ross. Featuring credited cameo appearances by Matthew Ferguson, Jason Done, Roger Morlidge, Simon Sherlock, Dominic Mafham, and Gregor Truter.
If "The English Patient" didn't work for you, I can understand that. I can stand hearing that it's "boring," because there is a camp that finds the movie absolutely agonizing. All it means is that they weren't the audience for which Anthony Minghella had written and directed his monument.
What I won't stand to hear is that the movie is "bad." The script is quixotically written, absolutely poignant; a wonder to behold, as if what became of it was anything otherwise. Everything here comes from the nonlinear context of Michael Ondaatje's 1992 novel, but the stories told in flashbacks is so beautifully paralleled with those told in the present that the sequencing of events doesn't seem to matter. "The English Patient" is composed of several characters and stories that aren't exactly explained in the beginning, and by the end they're the creators of their own catharsis. But in getting there, it doesn't tie together. It flows together.
"The English Patient" is an exquisite composition, marked by riveting performances from Ralph Fiennes, Willem Dafoe, and Kristin Scott Thomas. I couldn't help wanting more of Colin Firth, or the astonishing then-newcomer to American cinema, Juliette Binoche. Not unlike other epics, it deserves to be seen with theatrical treatment, or not at all. Certain scenes give the movie emotional enhancements that feel overwhelmingly three-dimensional. Cinematography, music, and sound editing just keep improving throughout, but the "Silent Night" scene is the most incredible use of all three since the parade scene in "The Godfather Part II".
It kills me to point out mistakes here, but when it rains, it pours. In his earliest "old scenes," a closeup of Ralph Fiennes's hand reveals an obvious latex glove for the "wrinkles" effect." Plane scenes are peppered throughout the movie, and each one is as fake as anything. I was even able to catch an actual "error," actually: a man entering a cave in one scene bumps his head into the wall, and the "wall" moves as if it were a hollow set piece. Maybe this wasn't so obvious upon the film's release, eighteen years in the past, but in all, I can only be glad that so much of the film does stand the test of time. "The English Patient" elaborates for nearly three hours, during which there isn't really anything that fails to entertain, or to keep it from flying by. It is the marvelous epic that results when another director envisions "Casablanca".
Tomorrow's Review
The Armstrong Lie
THE ENGLISH PATIENT IS AVAILABLE ON BLU-RAY, DVD, VHS, AND LASERDISC.

Movie Review #696
This review is dedicated to anyone who actually thought I purposefully reviewed a romance on Valentine's Day. It just goes along with the words of Gump: "Life's like a box of chocolates. You never know what you're gonna get." Sometimes, coincidence. (The mention of chocolates was intentional, though.)
NOTE: This review regards the 45th Anniversary Edition, which includes the movie as it was re-released in 1992.
Presented by Metro – Goldwyn – Mayer…
…a Carlo Ponti Production…
Distributor: Metro-Goldwyn-Mayer (MGM)
Country: USA – Italy
Spoken Languages: English – Russian
Directed by David Lean. Produced by Carlo Ponti. Screenplay by Robert Bolt. From the novel by Boris Leonidovic Pasternak "Doctor Zhivago".
Approved by the Production Code Administration (unknown certificate). Later rated GP by the MPAA. Currently rated PG-13 by the MPAA — mature themes. Act I runs 1 hour, 59 minutes with overture music, opening credits, and intermission music. Act II runs 1 hour, 21 minutes with entr'acte music and final credits. Complete production runs 3 hours, 20 minutes (originally released 3 minutes shorter; 1999 re-release runs 8 minutes shorter). Premiered in New York City, New York on December 22, 1965; and in London on April 26, 1966. Wide release in the USA on December 31, 1965; and in Italy on December 10, 1966. Re-released in the USA on September 28, 1999.
Narrated by Alec Guinness. Starring Omar Sharif, Julie Christie, Geraldine Chaplin, Rod Steiger, Tom Courtenay, Siobhan McKenna, and Ralph Richardson. Also starring Jeffrey Rockland, Tarek Sharif, Gerard Tichy, Adrienne Corri, and Lucy Westmore. Featuring an uncredited cameo appearance by Mercedes Ruiz as Tonya at 7.
As is appropriate in reviewing an epic, let me start in medias res. I took a break during the designated intermission during "Doctor Zhivago" and came back during the entr'acte. As I opened the door to my basement stairs, where the speakers and Blu-ray player were running without me, I experienced something extraordinary. I was not hearing the ever famous "Lara's Theme," but a terrific overflow of sound that encapsulated me from the very moment I began my journey down the stairs. It wasn't like descending into a movie theater. It was like being pulled gently, gracefully into Heaven. Mind you, what I'm describing here is nothing more than how Sir David Lean, CBE, puts things together. Specifically, a title card with a French conjunction that translates as "between acts," with a song composed by Maurice Jarre.
And how gloriously this man did it. He anoints my heart (my head, too) with water, my cup runneth over.
I don't want to put "Zhivago" on a pedestal. Or maybe I do. It's simply the best epic of its time. That time, from anything I've seen, denoting anything that came prior to "Reds" (1981)–itself a quasi-replica of this film–way back to anything that followed "Gone with the Wind" (1939). I wouldn't doubt that just why "Zhivago" is so spectacular is in the simplicity of how Sir Lean imagined it from the beginning. Not as an epic movie, but as an epic poem with the vast accoutrements of a silver screen epic. This tale unfolds as a long narrative from the eyes of a single character. I'll quote Tom Hanks as saying that, with the entire rest of the cast, our narrator is a "needle in a stack of needles." None of it's boring by any standard, but unless watched in theaters or with the viewing atmosphere of a theater, the story isn't told like it could (and should) be.
There's not a moment in "Zhivago" that lacks beauty. That much of the movie was filmed on location keeps the look intact and as realistic as it could ever be. With Freddie Young returning from Sir Lean's "Lawrence of Arabia", the camerawork is masterful. Except where that film was pompously beautiful, "Zhivago" orchestrates a humble beauty. Our main character is a sensitive, quiet man who leads careers as both a physician and a poet. During the time between the Russian Revolution of 1905 and the Second World War, Zhivago resorts to cheating on his wife, with the wife of a political acitivist. Perhaps his character isn't disagreeable (and much more likeable than Sir Lean's previous character) due to the magnanimous man he is; it seems to compensate. Zhivago is portrayed by Omar Sharif, though among the extraordinary cast he leads are two real standouts: Rod Steiger and Julie Christie. They really escalate the screenplay in their supporting roles. The novel Doctor Zhivago started as a manuscript that was smuggled out of the USSR to become published in Italy. Our screenwriter, Robert Bolt, wrote the screenplay. It's highly, highly descriptive, but exquisite and thoroughly interesting. Having transitioned from the written craft into four stages of film production, that only seems to have escalated.
Coming Reviews
Blackfish
Blue Jasmine
Friday the 13th Part VII: The New Blood
This Film Is Not Yet Rated
Tie Me Up! Tie Me Down!
We're the Millers
DOCTOR ZHIVAGO IS AVAILABLE ON BLU-RAY, DVD, VHS, AND LASERDISC.

Hit the jump for an announcement regarding the 2nd Annual Cinemaniac Awards:
Movie Review #660
Studio: Dovemead Limited – Film Export A.G. – International Film Production
Distributor: Warner Bros.
Country: UK
Spoken Languages: English
Directed by Richard Donner. Produced by Pierre Spengler. Created by Jerry Siegel & Joe Shuster. Story by Mario Puzo. Screenplay by Mario Puzo and David Newman and Leslie Newman & Robert Benton. Additional uncredited writer: Tom Mankiewicz.
Rated PG by the MPAA – mild violence, infrequent and mild sexual content, profanity. Runs 2 hours, 23 minutes (2000 restoration runs 2 hours, 31 minutes). Premiered in Washington, D.C. on December 10, 1978. Royal European Charity premiere in the UK on December 13, 1978. Limited release in New York City, New York on December 11, 1978; in Boston, Massachusetts on December 13, 1978; and in Los Angeles, California on December 14, 1978. Wide release in the UK on December 14, 1978; and in the USA on December 15, 1978.
With Christopher Reeve as Superman / Clark Kent. Starring Marlon Brando, Gene Hackman, Ned Beatty, Jackie Cooper, Glenn Ford, Margot Kidder, Jack O'Halloran, Valerie Perrine, Maria Schell, Terence Stamp, Phyllis Thaxter, Susannah York, and Jeff East.
I would forgive the set design, the obvious blue screens, and the home video look in "Superman", even if the technical department reunited everybody who worked on the looks of "Plan 9 from Outer Space". (And believe me, the looks aren't that miserable at all.) "Superman" goes the distance with its campy look. It also embraces it. You don't have to fanboy the hell out of yourself to love the opening titles, not to mention the story that follows. You could be the average six-year-old. Or you could be the average thirty-six-year-old.
"Superman" isn't an action movie, either. The melodrama is what heightens our faith in the movie, especially when the implausible adventure arrives. Mario Puzo wrote the story and co-wrote the screenplay. Evidently, his heavy work on "The Godfather" strengthens this movie: it's an epic in the making, not a thin, fleeting comic book. Jerry Siegel and Joe Shuster's tale comes as the rise of a hero–or, in this case, a superhero–starting from the very beginning. The movie flies by faster than a speeding bullet, and honestly, I can't imagine the pacing being any stronger. It's 50 minute before the "Superman" costume is used to transition from Clark Kent's boyhood into his adulthood. 51 minutes before we see Lois Lane working at the Daily Planet. 71 minutes before we see Clark in costume, ready to save the world. A time after that, the name "Superman" is first uttered. We're told unmistakably that Superman will return; I doubt not that when he does, we'll begin to see the fall of this hero.
The "Superman" story is one of the most transcendent pieces ever written. This reimagination, from director Richard Donner ("Lethal Weapon", "The Omen"), was a prototypical effort in the superhero genre. Three and a half decades later, it definitely has competitors. Christopher Nolan's "Batman" trilogy being the universally decided cream of the crop. Though even its imperfections, "Superman" has yet to be topped, in its representation of the genre. Knowing that the movie remains fresh, comic booky, and fun (even in the über, über impossible ending), I doubt it'll lose that power.
Tomorrow's Review
Kick-Ass
Movie Review #650
Regency Enterprises presents a film by Steve McQueen…
…River Road Entertainment presents…
…in association with Film4…
Studio: Plan B – New Regency – Film4 – Regency Enterprises
Distributor: Fox Searchlight Pictures – Twentieth Century Fox Film Corporation
Country: USA – UK
Spoken Languages: English
Directed by Steve McQueen. Produced by Dede Gardner, Anthony Katagas, Jeremy Kleiner, Steve McQueen, Arnon Milchan, Brad Pitt, and Bill Pohlad. Screenplay by John Ridley. Based on the memoir "Twelve Years a Slave" by Solomon Northup.
Rated R by the MPAA, for violence/cruelty, some nudity and brief sexuality. Runs 2 hours, 14 minutes. Premiered at Telluride Film Festival on August 30, 2013; at Toronto International Film Festival on September 6, 2013; at New York Film Festival on October 8, 2013; at New Orleans Film Festival on October 10, 2013; at Mill Valley Film Festival on October 11, 2013; at Chicago International Film Festival on October 13, 2013; at Hamptons International Film Festival on October 14, 2013; and at BFI London Film Festival on October 18, 2013. Limited release in the USA on October 18, 2013. Wide release in the USA on November 8, 2013, and in the UK on January 24, 2014.
Starring Chiwetel Ejiofor, Michael Fassbender, Benedict Cumberbatch, Paul Dano, Paul Giamatti, Lupita Nyong'o, Sarah Paulson, Brad Pitt, and Alfre Woodard. Also starring Adepero Oduye, Garret Dillahunt, Scoot McNairy, Taran Killam, Chris Chalk, Michael K. Williams, Kelsey Scott, Quvenzhané Wallis, Devyn A. Tyler, Cameron Zeigler, Rob Steinberg, Jay Huguley, Christopher Berry, Bryan Batt, Bill Camp, Dwight Henry, and Ruth Negga.
There's two kinds of movies. Type A: you like it or you dislike it. Type B: a movie defined by quality, where "enjoyment" is irrelevant. "12 Years a Slave" is most certainly Type B, an unflinching masterpiece that has moments to cherish and moments to detest, but it holds the viewer's attention the entire time.
The biggest compliment I can give it is that it succeeds through its explicit presentation of slavery.  Director Steve McQueen spends one scene after another stripping the human heart of its every layer.  The entirety of it is a two-hour catharsis, with John Ridley's screenplay providing a most uncomfortable display of these unjustifiable acts. The characters are not complex human beings. They're defined by either their strengths endurances, or by their weaknesses and cruelties. The brutality is excruciating in dialogue, but it's far worse seen than heard. For what seems like three full minutes, we watch our protagonist try and save himself as he hangs on a noose. Meanwhile, white folk walk around the plantation nonchalantly. It goes without saying that "12 Years a Slave" gets worse than that, though. Not since "The Passion of the Christ" has a film presented such repellent flaying scenes.
"12 Years a Slave" is a tale we can only wish not to believe. The reality is immense but so tasteless, it's almost inconceivable. The epic is based on a memoir by Solomon Northup.  Its full title is the story in a nutshell: Twelve Years a Slave: Narrative of Solomon Northup, citizen of New-York, kidnapped in Washington city in 1841, and rescued in 1853, from a cotton plantation near the Red River in Louisiana.  The account brings us back to the depicted period in everything: script, music, costume, and most of all, acting. Solomon Northup is well portrayed by Chiwetel Ejiofor, a lesser known actor in the cast, but as worthy of an award for his performance as any given performer here.  His performance highlights the determination, opportunism, and bravery in his character. The height of the tragedy is when the slaveowners try to convince Solomon that he's been a slave his whole life.  Yet he knows the truth, because he doesn't desire anything at all except to get back to his wife and kids again.  He doesn't want to work on a plantation, where he's no longer seen as an educated, respectable human being.
Or, as he put it himself, "I don't want to survive. I want to live."
Review No. 609
"Gone with the Wind" will make you "give a damn."
Dedicated to my grandmother —
— she was two years old when "Gone with the Wind" was released…
…if I'm putting the movie on a pedestal —
— then I guess Webster's needs a new idiom to describe how much she loves this movie.
CREW:
Director — Victor Fleming
Uncredited Directors — George Cukor & Sam Wood
Producer — David O. Selznick
Screenplay — Sidney Howard
Uncredited Screenwriters — Oliver H.P. Garrett, Ben Hecht, Barbara Keon & Jo Swerling
Based on — Gone with the Wind by Margaret Mitchell
CAST:
Clark Gable — Rhett Butler
Vivien Leigh — Scarlett O'Hara
Leslie Howard — Ashley Wilkes
Olivia de Havilland — Melanie Hamilton
SUPPORTING CAST:
TARA PLANTATION — Thomas Mitchell, Barbara O'Neil, Evelyn Keyes, Ann Rutherford, George Reeves, Fred Crane, Hattie McDaniel, Oscar Polk, Butterfly McQueen, Victory Jory & Everett Brown.
AT TWELVE OAKS — Howard C. Hickman, Alicia Rhett, Rand Brooks & Carroll Nye.
IN ATLANTA — Laura Hope Crews, Eddie Anderson, Harry Davenport, Leona Roberts, Jane Darwell & Ona Munson.

OTHER:
Distributor — Loew's, Inc.
Premiere Dates — December 15, 1939 (Atlanta); December 19, 1939 (New York); December 28, 1939 (Los Angeles); April 18, 1940 (United Kingdom); April 30, 1940 (Sydney); March 29, 1990 (Soviet Union)
Wide Release Date — January 17, 1940; March 31, 1942 (first re-release); August 21, 1947 (second re-release); June 3, 1954 (third re-release); October 14, 1967 (70mm re-release)
Standard Re-release Dates — March 10, 1961 (Atlanta, Georgia); December 29, 1961 (Finland); October 15, 1962 (Spain)
70mm Re-release Dates — March 25, 1967 (Sydney); October 10, 1967 (New York, New York); March 12, 1969 (London)
Language — English
Country — USA
Running Time — 3 hours, 40 minutes (plus 14-18 minutes of overture, intermission, entr'acte, and exit music)
MPAA —
GONE WITH THE WIND WAS WATCHED ON SEPTEMBER 7, 2013.

A huge sucker for epics has been made of me lately.  Obviously I have a long ways to go before I've seen everything I need to in the genre, but I've found myself so utterly fascinated by how sincerely some directors want to hold their audience past three hours, if not for a larger-than-life story.  Francis Ford Coppola's Apocalypse Now.  Mel Gibson's Braveheart.  Richard Attenborough's Gandhi.  Ridley Scott's Gladiator.  David Lean's Lawrence of Arabia.  Tom Hooper's Les Misérables.  Steven Spielberg's Saving Private Ryan and Schindler's List.  James Cameron's Titanic.
And as if I would need to reserve the spot when saving the best for last, Victor Fleming's Gone with the Wind.  Let's just adjust it for inflation before I start beating around the bush: it made over three billion in the U.S. alone, another more-than-three-billion overseas–all on a budget of about $65 million.  I'd have guessed the budget was greater, to be honest, but maybe that's my mind emphasizing the beauty of it all.  Gone with the Wind premiered in Atlanta in mid-December of 1939.  It was shot from January 26th through July 1st (that's over 150 days), and editing didn't begin until November 11th.  It's a pretty tight schedule, I'd say, for a film that chooses technicolor, 70mm cinematography, exquisite sets and direction, and a larger-than-life feel.  Should I mention that Fleming released his The Wizard of Oz that August?  He's either hardworking or completely OCD.  Though the latter's already reserved for Howard Hughes.
Revisiting Gone with the Wind, my one question was: "Did they ever actually love each other?"  Now let's be honest.  That's not a question you ask of a romance, let alone the quintessential epic romance.  Yet it's valid, because this isn't a love story.  It's about characters who don't know what love is.  They think they do, but they have miles to go before they discover they're dead wrong.  Scarlett O'Hara (Vivien Leigh) is a brat fighting for the Confederate States of America, during the Civil War era.  Moreover, she's fighting to get what she wants, though I guess that's implied in "brat."  You can't make enough of her egocentric personality, and there's no telling why we feel so sorry for her.
Now let's take a careful look at Scarlett.  There truly is no telling why we would dare feel sorry for her, but we do, and that's that.  We feel sorry for Anne Bancroft in The Graduate, even if we don't immediately realize she is the protagonist, but guess what, everything she did actually had a motive.  Scarlett would have an affair with a college graduate just for the hell of it.  Actually she'd marry him just for the hell of it; she struggles through two marriages, which leaves her twice a widow, and she decides to marry a man she sometimes doesn't seem to love (but says otherwise), sometimes doesn't think she loves.  Her bipolar nature only adds on, so it's amazing Vivien Leigh could ever deliver so well on a screenplay that sprawls out over four hours.  She's even better with Rhett Butler (Clark Gable) around, and god, do we hate him.  Of course, we realize that she's defined by her impulses, he by his clever (albeit possessive) nature, but we realize only in perception.
Gone with the Wind is the perfect movie.  It flies by in four hours, with the best moments being in the latter act.  The music is downright riveting, as well, so there's no shame in sitting through the overture, the intermission, the entr'acte, and the curtain-closer.  Rarely do films hold up this well, but I can't say that until I've seen it in theaters.  Something tells me that's "the full experience."  (Not to dishonor another completely different favorite, but what kind of trash world do we live in that plays The Rocky Horror Picture Show every Saturday at midnight, but gives no love to classics like Gone with the Wind?)  Between the story and the style, D. W. Griffith (The Birth of a Nation) may be the only director to ever top the poignancy of Victor Fleming's in retelling Civil War era.  Even Edward Zwick (Glory) looks a bit half-baked in comparison.  That this movie's dramatic side is still touching is almost impossible to believe.  It doesn't feel like it was made in 1939, even if it feels like something of an "old movie," for lack of a better word.  In other words, it's already over seven decades old.  You gotta give Victor Fleming some credit for his achievement here.  1939 was only twelve years after we got our first sound film, and less than a decade before they became significantly popular.  Gone with the Wind takes another step–in fact, another twenty.  There's what makes you "give a damn" about cinema when rarely anything else does.
Review No. 600
It's worth bending over backward to watch.
CREW:
Director — Ang Lee
Producers — James Schamus, Larry McMurtry, Diana Ossana
Screenplay — Mr. McMurtry & Ms. Ossana
Based on — Brokeback Mountain by Annie Proulx
CAST:
Heath Ledger — Ennis Del Mar
Jake Gyllenhaal — Jack Twist
Anne Hathaway — Lureen Newsome Twist
Michelle Williams — Alma Beers Del Mar
Randy Quaid — Joe Aguirre
OTHER:
Distributor — Focus Features
Release Date — December 9, 2005 (USA); December 23, 2005 (Canada)
Language — English
Country — Canada & USA
Running Time — 2 hours, 14 minutes
MPAA —
— SEXUALITY, NUDITY, LANGUAGE AND SOME VIOLENCE.
BROKEBACK MOUNTAIN WAS WATCHED ON AUGUST 31, 2013.
Ang Lee is the Stanley Kubrick of Taiwanese-American filmmakers. He's a genius and he doesn't want to exploit that, so much as turn it into something magnificent. Furthermore, he's never done the same movie twice. In fact, he's always doing something completely unexpected. Even Crouching Tiger, Hidden Dragon was unexpected, considering Lee's absence in Taiwan for six years, and his existence only in wedding dramas (not martial arts movies) before then. But if you look at every Ang Lee movie, you'll notice Lee has a technique to which he abides. He uses his lavish, large-scale fascination to conduct everything he makes into something unforgettable. He turns characters into epic heroes this way, too, and with this he amazes most with the two in Brokeback Mountain.
The movie says to believe in what is to be believed, not what is said by the majority to be right. Lee was looking for anything but the controversy he got when he went about the story about two homosexual cowboys. They meet and waste their days away up at Brokeback Mountain, but there's a certain shame that falls upon them when they're keeping this secretive. It's highly debatable as to what kind of love they actually have for their wife and kids. When they meet each other again will cause heartbreak, but they're prepared.
The movie is simply outstanding. These characters could have just as easily been a bit for small talk in any other drama, as their conversations are more often than not restrictive of any love life between them. Heath Ledger and Jake Gyllenhaal are almost in a "who's better" competition with each other, and they're both so good in there's roles. It's not about making them into likable characters, though, so much as about bringing out the story that captivates us along their journey. The idea of pitching two homosexuals in a romantic epic drama doesn't make it new. Is a love scene really any different this way, when we're talking about a technique that's as old as talking pictures themselves? No, but in reasserting the struggles met in the story, the love scene becomes a greater element to everything.
There's nothing unheard of here. Then again, there's nothing heard of, either. The movie can be silent at times, but even that can be distilling. Brokeback Mountain had me emotional by the end; it's one of five movies that made me cry. It all flows peacefully like a river, and if not, it rains teardrops.
Later
Friday the 13th: Part V
Enjoy my review? Please share it using one of the buttons below!
Review No. 593
It's so…beautiful.
NOTE: This review regards the restored director's cut.  When Lawrence of Arabia was first released in 1962, it ran at 3 hours, 36 minutes, plus the introductory and entr'acte reels.  The restoration is 3 hours, 48 minutes, plus the introductory and entr'acte reels.
CREW:
Director — David Lean
Producer — Sam Spiegel
Screenplay — Robert Bolt & Michael Wilson
CAST:
Peter O'Toole — Thomas Edward "T. E." Lawrence
Alec Guinness — Prince Faisal
Anthony Quinn — Auda abu Tayi
Jack Hawkins — General Allenby
Omar Sharif — Sherif Ali ibn el Kharish

OTHER:
Distributor — Columbia Pictures
Release Date — December 16, 1962
Language — English, Arabic & Turkish
Country — United Kingdom & USA
Running Time — 3 hours, 48 minutes plus intro. and entr'acte music (restored director's cut—original release: 3 hours, 36 minutes plus intro. and entr'acte music)
MPAA Rating — PG
Flags (allmovie.com) — adult situations; violence

LAWRENCE OF ARABIA WAS WATCHED ON AUGUST 23, 2013.
Director David Lean is a man who treats his work with far more care than imaginable.  He doesn't make movies–he builds shrines.  Wonders to behold.  Freddie Young's cinematography makes so much difference in Lawrence of Arabia.  Nothing has been more grandiose since it was released over half a century ago, and furthermore, it's impossible to resurrect the absolute grandeur, at least without bringing it back to theaters.  There's moments that rattle the inner spirit in this movie, and in fact they encompass it in entirety.  The music is terrific, with Maurice Jarre applaudable for such riveting contrast between moments that need a thousand pins for the sound of one dropping, and others when one pin echoes across the entire room.
The thrill lasts almost four hours, and not a minute is wasted.  Robert Bolt and Michael Wilson have constructed a screenplay so close to perfect, even the few mistakes are well-written.  Their title character is an interesting one.  Lawrence of Arabia is the sprawling biography of T. E. Lawrence, a British war hero and a liaison with the Arabian Peninsula during World War I.  Both countries adore and honor him for his exploits…and, as it turns out, Lawrence adores himself.  Peter O'Toole was an unknown at the time, but he made this his own stunning breakthrough role.  His acting is so impassioned in itself, but it doesn't show immediately.  We love the man for the entire first act of this phenomenal epic.  During the second half, his character is detestable down to the core.  Amazingly enough, our attention remains on insurmountable demand with this man's route to fame.
Lawrence of Arabia is artful and awe-inspiring.  It's lively and fluent; there isn't a dead moment in the film, for that matter.  I'd like to believe I'm putting the movie on a pedestal.  After all, that's where it belongs.
Tomorrow
Seven Samurai
&
The Bling Ring
Enjoy my review? Please share it using one of the buttons below!
Review No. 589
As far as great trilogies, it's a close second to Sergio Leone's "Trilogia del dollaro".
This review is dedicated to Joseph Landing —
 — a published author and good friend of mine —
 — whose favorite movie is The Godfather.
The Godfather, The Godfather Part II, and The Godfather Part III…but in one package. It's a much different experience than separate viewings, so that's why I'm reviewing this (please don't go back to my separate reviews–where they aren't inaccurate, they're terribly written). If you're interested, the trilogy is available in all sorts of casings. Mine is a bundle called The Godfather: DVD Collection, and it was released in 2001. I got it for ten bucks (talk about an offer you can't refuse!), and it looks like a tattered book, which is good, because this is a better, nine-hour rewrite of the novel The Godfather, written not only by author Mario Puzo but by director Francis Ford Coppola. A more popular home video circulation started two years after Part III, a direct-to-video restoration called The Godfather Trilogy: 1901-1980; according to IMDb, the extension is variably 38 minutes and 165 minutes longer than the already nine-hour-five-minute epic. (Not that it should matter–the time flew by for me.)
If you haven't seen the entire trilogy, note that there are spoilers in the review that follows, but they're unavoidable, and furthermore, you can't spoil the movie simply by giving away the basics of the plot. Everything else about it is what amazes.
My suggestion would be to get a life and come back, but it might not be an offer you can't refuse until you've read my review.
CREW:
Director — Francis Ford Coppola
Producer — Albert S. Ruddy (Part I); Mr. Coppola (Part II & Part III); Gray Frederickson (Part II); Fred Roos (Part II)
Screenplay — Mr. Coppola & Mario Puzo
Based on — The Godfather by Mr. Puzo (Part I & Part II); no source material (Part III)
ACT I CAST:
Al Pacino — Don Michael Corleone
Robert Duvall — Tom Hagen
Diane Keaton — Kay Adams Corleone Michelson
Talia Shire — Connie Corleone Rizzi
Marlon Brando — Don Vito Corleone
James Caan — Santino "Sonny" Corleone
John Cazale — Fredo Corleone
Morgana King — Mama Corleone
WITH:
Richard Castellano — Peter Clemenza
Sterling Hayden — Captain McCluskey
John Marley — Jack Woltz
Richard Conte — Emilio Barzini
ACT II CAST:
Al Pacino — Don Michael Corleone
Robert Duvall — Tom Hagen
Diane Keaton — Kay Adams Corleone Michelson
Talia Shire — Connie Corleone Rizzi
James Caan — Santino "Sonny" Corleone
John Cazale — Fredo Corleone
Robert De Niro — Young Vito Corleone
Morgana King — Mama Corleone
Marianna Hill — Deanna Dunn-Corleone
WITH:
Lee Strasberg — Hyman Roth
Michael V. Gazzo — Frank Pentangeli
ACT III CAST:
Al Pacino — Don Michael Corleone
Diane Keaton — Kay Adams Corleone Michelson
Talia Shire — Connie Corleone Rizzi
Andy Garcia — Vincent Mancini
Sofia Coppola — Mary Corleone
WITH:
Eli Wallach — Don Altobello
George Hamilton — B. J. Harrison
Joe Montegna — Joey Zasa
OTHER:
Distributor — Paramount Pictures
Release Date — Part I on March 15, 1972; Part II on December 20, 1974; Part III on December 25, 1990
Language — English, Sicilian, Spanish & German
Country — USA
Running Time — 9 hours, 5 minutes (Part I – 2 hours, 55 minutes; Part II – 3 hours, 20 minutes; Part III – 2 hours, 45 minutes)
MPAA Rating — R
Part I … Flags (allmovie.com) — brief nudity; not for children; profanity; violence
Part II … Flags (allmovie.com) — graphic violence; not for children
Part III … MPAA Description — violence and language

Original Grades
Act I (The Godfather) — 
Act II (The Godfather Part II) — 
Act III (The Godfather Part III) — 
THE GODFATHER TRILOGY WAS WATCHED IN ONE UNIT ON AUGUST 21, 2013.
(The trilogy was initially reviewed sequentially on 5/26/2012, 6/8/2012, and 7/12/2012.)
Let's not delay the inevitable.  This is the ideal way to watch The Godfather.  Save for Sergio Leone's Trilogia del dollaro, Francis Ford Coppola's Godfather trilogy may very well be the greatest trilogy ever made.  Though it might not be, because it might not be a trilogy at all.  It's one film.  F. F. Coppola was in a state of fear when he directed the first part of The Godfather.  There were street protests during the filming, giving it controversy before it was even released, and terrorizing the production schedule.  But he persevered, and to this day, it remains a box office tour de force.  Adjusted for inflation, it made over $644 million, making it the 23rd highest-grossing movie of all-time, and just behind The Exorcist as the highest-grossing R-rated movie ever made.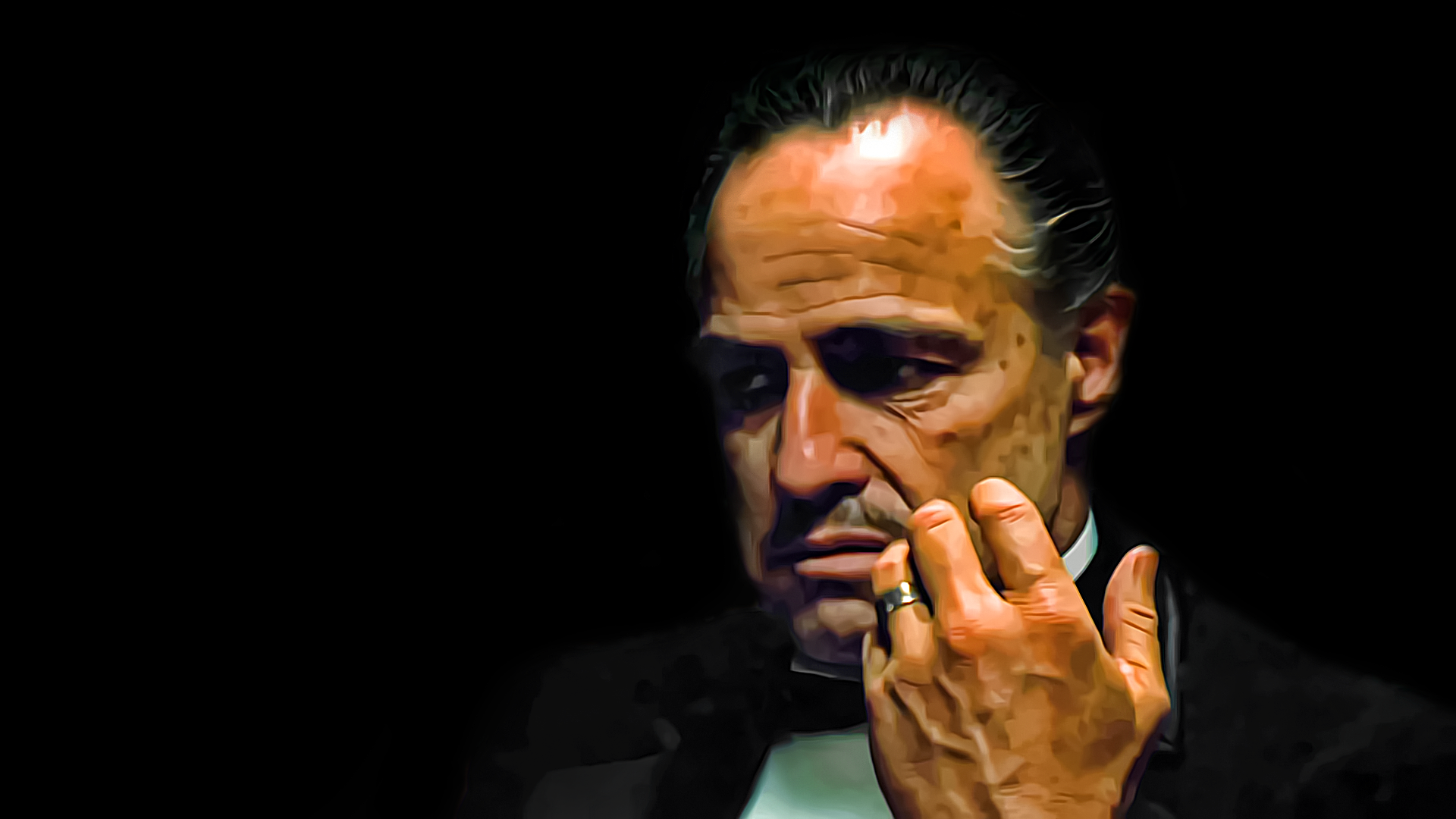 This is the way Nature tells Man he's done wrong.  Coppola hadn't released the whole movie, just a third of it.  If The Godfather had earned a dollar less, we wouldn't have the full movie, of which more was issued to cinemas in 1974 and then in 1990.  Be it because Nature had a great effect on Man, or because Man simply caught on, but the trilogy is thoroughly engaging.  I was transfixed for more than nine hours.  Spellbound.  There wasn't a moment where I was reacting to this nine-hour epic the way you'd think I should.  One doesn't realize it because of the length, not to mention the solemn pacing, but the opening act functions as only the setup.  It's 1945, where, we find Don Vito Corleone (Marlon Brando) at his old age, with a large family, but only one son who isn't involved with the mob.  As he dies, he decides that the new Don will be Michael (Al Pacino).  He trusts that this son of his will stay the good man he is, but he's begun to become a violent, womanizing mobster like the rest of his family.
Act II is longer than the primary act, by nearly a half hour.  We continue on Michael's story, where his rise toward success becomes a disaster in any other respect.  This is 1958. Michael still remembers his father, whether haunted by or blessed by the thought of him, and the stories he remembers aren't always prosperous ones.  Though this is where Robert De Niro takes over as a younger Vito, and to say he's prosperous is only a start (not that you couldn't say the same of Brando).  Not a word of English is uttered in his entire performance, which is of a character from the late 1910s and the early 1920s.  This is where we learn that every Corleone is named that because Vito Corleone was born Vito Andolini in the Sicilian town of Corleone; the change occurred on Ellis Island in 1901.  This is the only moment not paralleled by Michael's experiences in this second act, but the parallel is handled extraordinarily.
Act III is the shortest by about five minutes.  It's the gradual fall toward the conclusion, with Michael Corleone's experiences in 1979 and 1980 being the major highlight.  Now he's in his old age again.  Don Michael needs to pass on the title of Godfather on to another Corleone; he trusts that it shall be his daughter, the only one who strives for justice.  We see some of the same scenarios as we already saw: the parade, the confrontal with the Don, and more.  They remind us that Don Corleone is forever Don Corleone, never distinguished as Don Vito or Don Michael.  They both die in heartbreak, but it's far more apparent with Don Michael.  The tragedy (echoed through somber Italian music and operas) is accessible to even the audience: Don Michael has become a family man doesn't want to be a crime lord or a business mogul; he wants to be a Godfather because he's a respectable man that his family can come to.  There's one flaw I caught these whole nine hours, and it's in the finale.  But it's dismissible, given that we've sided with the emotional and economical routes that Michael Corleone takes to become the man he is.  The two seem to oppose each other entirely, which is where the movie perfectly sums up its progressive tale about family.
We also get a sort of side story about a man by the name of Vincent (Andy Garcia), who isn't a Corleone, but wants to take the title of Godfather in the Corleones.  He's not exactly a hero in the story, but he could warrant as much sympathy as Michael does.  It's quite probable that he becomes Godfather, in which case the progression from Vito to Michael to Vincent, is just as well as progression into greater antihero territory.  Is it odd how The Godfather Part III doesn't really work on its own, yet it works melodically as the third act of this cinemopera?  Or that The Godfather Part II wasn't even expected by its creators, yet it's the best act of this play?  No.  Not at all.  Francis Ford Coppola is nothing less than a genius, as is Mario Puzo.  As I've mentioned, their writing is terrifically paced; the entire cast delivers it with magnificence.  Maybe F. F. Coppola has the upper hand, since he is essentially Don Corleone.  He himself has a large family, and they help out a lot (SEE FOOTNOTE).  Maybe with the exception of Sofia–his daughter–but he admits it in the screenplay itself.  Sofia plays Pacino's daughter, and she questions him as to whether or not he's using her to make money.  Though this definitely isn't a movie made to cash-in on the most beautiful woman of the entire Coppola family.  It's a work of art that was (at least!) eighteen years in the making.  I don't doubt that it's forty percent of the reason we never saw the redux version of Apocalypse Now (1979) until 2001.

FOOTNOTE: The Coppolas who worked on The Godfather Trilogy:
Francis Ford Coppola — director — writer — producer
Talia Shire (his sister) — actress (as Connie Corleone)
Sofia Coppola (his daughter) — actress (as Mary Corleone) — uncredited actress (as child on ship) — uncredited actress (as Michael Francis Rizzi)
Anton Coppola (his paternal uncle) — opera advisor — uncredited actor (as conductor of "Cavalleria Rusticana")
Carmine Coppola (his father) — original music — composer of "Promise Me You'll Remember" — conductor — music arranger — composer of additional music — uncredited actor (as bandleader) — uncredited actor (as piano player in montage)
Bruno Coppola (his first cousin) — financial technical advisor — uncredited music producer
Vincent Coppola (unknown relationship) — actor (as street vendor)
Gia Coppola (his granddaughter) — uncredited actress (as Connie's granddaughter)
Italia Coppola (his mother) — uncredited actress (as Mama Corleone's body) — uncredited actress (as extra)
Roman Coppola (his son) — uncredited actor (as Sonny Corleone as a boy) — uncredited actor (as boy on street who attended funeral)
Gian-Carlo Coppola (his son) — uncredited actor (as baptism observer)
Tomorrow
Mud
&
Scary Movie V
Enjoy my review? Please share it using one of the buttons below!
Review No. 584
I love the smell of classics in the morning.
TWO QUICK NOTES: One, no, I did not watch Apocalypse Now Redux, although I'd heavily considered it.  I will watch it, and you'll know, because I'll review it separately.  Considering it's 49 minutes longer and has its own Wikipedia page, I'd say it's its own movie.  Two, Francis Ford Coppola is credited simply as Francis Coppola here, but since we know him as the former, that's what I'll call him in this review.  (Odd that he used this credit for eight films.)
CREW:
Director — Francis Coppola
Producer — Mr. Coppola (Redux — Mr. Coppola & Kim Aubry)
Screenplay — Mr. Coppola & John Milius
Written Narration — Michael Herr
Based on — Heart of Darkness by Joseph Conrad (uncredited)
CAST:
Marlon Brando — Colonel Walter E. Kurtz
Robert Duvall — Lieutenant Colonel William "Bill" Kilgore
Martin Sheen — Captain Benjamin L. Willard
Frederic Forrest — Engineman 3rd Class Jay "Chef" Hicks
Albert Hall — Chief Quartermaster George Phillips
Sam Bottoms — Gunner's Mate 3rd Class Lance B. Johnson
Larry Fishburne — Gunner's Mate 3rd Class Tyrone "Mr. Clean" Miller
Dennis Hopper — American photojournalist
OTHER:
Distributor — United Artists (Redux — Miramax Films)
Release Date — August 15, 1979 (Redux — August 3, 2001)
Language — English, French, Vietnamese & Central Khmer
Country — USA
Running Time — 2 hours, 33 minutes (Redux — 3 hours, 22 minutes)
MPAA Rating — R
MPAA Description — none (Redux — disturbing violent images, language, sexual content and some drug use)
Flags (allmovie.com) — drug content; not for children; nudity; profanity; sexual situations; war violence

APOCALYPSE NOW WAS WATCHED ON AUGUST 19, 2013.
"The horror.  The horror."
This is easily the toughest review I've had to write in some time, and part of it might be because I watched this right after a one-sitting of Heart of Darkness.  It made for an experience that was all the more mesmerizing.  Joseph Conrad's novella gets as much credit as an inspiration to Apocalypse Now, but it's not that.  The characters are similar, but not only are their names different, one story is of a man who learns of another man's journeys in the Congo.  The other, a man who experiences war as the drug that it's marketed: falling in love with something about "the horror," so much that he can't stop thinking about it.
But that's how Apocalypse Now is marketed.  You fall in love with it because it's so well made.  It's despicable, but beautiful.  I almost went back to watch it again, which hasn't happened for at least my entire time critiquing films.
Apocalypse Now is directed by Francis Ford Coppola.  5% of his effort is in revising Heart of Darkness into the sprawling-as-Beowulf epic that it wanted to be (it was published as three serials, then as a complete novella, which takes but an hour or two to read).  Another 5% is in making "the horror" as accessible as it was in 1899.  You just can't make imperialism seem so frightening eight decades later, so instead, Coppola brings back the Vietnam War.  But it doesn't matter whether this is four years after the end of the War, or the bicentennial.  Its effect is timeless.
Which brings me to the 90% that makes it so timeless.  While the other 10% is perfect, here's where Coppola spits it back out as a classic–his own masterpiece, something completely unrelated to Conrad's.  If both parts of The Godfather don't prove this man's excellence, here's something a little more mainstream for ya.  Francis Ford isn't a man who's afraid to use rock music.  Proof: "The End" by the Doors.  It opens the movie.  Then again, he isn't afraid to use "classical" music, either.  Proof: "Ride of the Valkyries" by Richard Wagner.  The two scenes highlight anything the movie is trying to say.  Actually, it works wherever his style is; those are just best known.  Coppola has well overshot the film, using one frame for every ninety-five that were expended.  Compare this to the average ratio of twenty to one.  The rest of his style, it's a spellbinding approach to moviemaking that can't possibly be expressed as a statistic.  It's a movie about aftermath (often times, in subtext), and its own aftermath isn't so depressing.  And it can be expressed statistically.  Because there's a 100% chance I'll revisit this one.
Enjoy my review? Please share it using one of the buttons below!
Review No. 575
"Il buono, il brutto, il cattivo" is really "Il classico, il bello, il cazzuto".
DIRECTED BY SERGIO LEONE. PRODUCED BY ALBERTO GRIMALDI. SCREENPLAY BY LEONE, AGE & SCARPELLI, AND LUCIANO VINCENZONI. STORY BY LEONE AND VINCENZONI. DISTRIBUTED BY UNITED ARTISTS IN ITALY ON DECEMBER 15, 1966; AND IN THE UNITED STATES ON DECEMBER 29, 1967. PRODUCED IN ITALIAN AND ENGLISH BY ITALY. RUNS 2 HOURS, 42 MINUTES (INTERNATIONAL VERSION RUNS 2 HOURS, 57 MINUTES). NOT FOR CHILDREN, DUE TO INTENSE WESTERN VIOLENCE.
CREW:
Director — Sergio Leone
Producer — Alberto Grimaldi
Screenplay — Mr. Leone, Age & Scarpelli, Luciano Vincenzoni
Story — Mr. Leone & Mr. Vincenzoni
CAST:
Clint Eastwood — The Man with No Name aka "Blondie" (The Good)
Lee van Cleef — Angel Eyes (The Bad)
Eli Wallach — Tuco (The Ugly)
OTHER:
Distributor — United Artists
Release Date — December 29, 1967 (USA)
Language — Italian & English
Country — Italy
Running Time — 2 hours, 42 minutes (international version: 2 hours, 57 minutes)
MPAA Rating — R (re-rating from M)
Flags (allmovie.com) — adult situations; not for children; western violence

IL BUONO, IL BRUTTO, IL CATTIVO WAS WATCHED ON AUGUST 15, 2013.
"[INSERT NAME HERE] has been found guilty by the third district circuit court of the following crimes … For all these crimes the accused has made a full and spontaneous confession. Therefore we condemn him to be hung by the neck until dead. May the lord have mercy on his soul. Proceed."
So I hear Best Western hotels were initially Good Bad & Ugly hotels, but they thought the Sergio Leone reference wouldn't take in too many customers.  I'm joking, of course, but it'd take a hypnotist to convince me that Leone's Il buono, il brutto, il cattivo (that's The Good, the Bad and the Ugly for English speakers) isn't the greatest western movie ever made.  Every minute is breathtaking.  As if that isn't enough, it's been almost five decades since the rise and fall of the Italian phenomenon that is the Dollars trilogy, and not one trilogy of the same caliber has come through.  Per un pugno di dollari (A Fistful of Dollars) and Per qualche dollaro in più (For a Few Dollars More) had me wondering, but this third round has me utterly convinced.
This one was budgeted at $1.2 million–more than the combined budgets of the first two Dollars movies–yet not a "dollar" more goes into the look or sound of it.  Nonetheless, this is set apart from the low-budget antecedents by a brilliant screenplay and Leone's fearless directorial style.  Clearly, he loved the story in Per un pugno, but that was a shallow addiction of his as opposed to Il buono, il brutto, il cattivo, which is much more a religion.  Not a word is spoken until ten minutes have been spent for the intensity to build.  This is him praying on behalf of his audience.  The answer is a clever miracle: a staring contest that almost seems hostile.  It's equally amusing and thrilling.  This happens once again at the height of the climax.  Except it's not a staring contest, it's a Mexican standoff.  It was a smiling adrenaline rush for me.
It's not just the masterful direction that makes Il buono, il brutto, il cattivo work.  Ennio Morricone's score does much service to the movie.  In fact, it's the paragon for any way to handle a spaghetti western.  In fact, Il buono is thoroughly at the top of its game, because so is everybody involved.  The best here is Clint Eastwood, the star himself.  In fact, he gives a name to Clint Eastwood, his own name.  They're in great actor-character bondage here, so much that they're one person, not an actor in a different role than himself.  Eastwood has perfected this personality as a grinning cross between Harrison Ford and Jack Nicholson.  He's known as "Blondie," though he's actually the befearèd Man with No Name who has been previously nicknamed "Joe" and "Manco."  All three names function as in-jokes for fans of Leone's work, but the "Blondie" understatement is clearly the wittiest.
I haven't said what Il buono, il brutto, il cattivo is about.  But that's for you to find out.  To steal a quote from the great Roger Ebert: "It's not what a movie is about, it's how it's about."  Oh and "No good movie is too long and no bad movie is short enough."  Thank god for moviemakers like Sergio Leone who improve not just with time, but with running time.  If the title was intended to express quality, may I suggest, in rough Italian, Il classico, il bello, il cazzuto. (That's The Classic, the Badass and the Beautiful.)
NOTE: The literal translation is Good, Ugly, Bad, not The Good, the Bad and the Ugly.  Similarly, the literal translation of Il classico, il bello, il cazzuto is Classic, Beautiful, Badass, not The Classic, the Badass and the Beautiful.  Just a matter of order, unless I was given a wrong translation.
Later
The Wild Ride
Enjoy my review? Please share it using one of the buttons below!
---
---
---
Welcome!

★★★★ = classic
★★★½ = excellent
★★★ = good
★★½ = acceptable
★★ = fair
★½ = poor
★ = pathetic
½ = trash
0 = worthless

COMING SOON

– IN THEATERS –
Son of God

– RECENTLY ON HOME VIDEO –
Lee Daniels' The Butler
Nebraska

– CRITERION COLLECTION –
La Strada

– MORE –
GoldenEye
Quick Recommendations

No film is recommendable to everyone, because if it strongly appeals to many audiences, it's going to be poorly received by at least one audience. These 25 classics, however, I would recommend to eight and a half, if not nine in every ten people.

2001: A SPACE ODYSSEY

BATTLESHIP POTEMKIN

BEFORE SUNRISE

BEFORE SUNSET

BEFORE MIDNIGHT

THE BIG LEBOWSKI

BLUE VELVET

THE BIRTH OF A NATION; OR THE CLANSMAN

CITIZEN KANE

CITY LIGHTS: A COMEDY ROMANCE IN PANTOMIME

DAVID LEAN'S FILM OF DOCTOR ZHIVAGO

EYES WIDE SHUT

FIGHT CLUB

GOODFELLAS

THE GRADUATE

KILL BILL: VOL. 1

KILL BILL: VOL. 2

MARIO PUZO'S THE GODFATHER

MARIO PUZO'S THE GODFATHER: PART II

MARIO PUZO'S THE GODFATHER: PART III

MATCH POINT

PULP FICTION

REQUIEM FOR A DREAM

THIS FILM IS NOT YET RATED

Blog Stats